Do you need assistance with laser cutting of sheet metal?
We'd be only pleased to be of help resolve your laser cutting needs with a focus on your requirements, processes and products. Verkstadsbolaget, which is a metalworking shop, has extensive experience in the laser cutting of most materials, whilst ensuring a high quality of the finished products. We strive for close and open cooperation with you as a client in order to ensure the manufacture of a good and stable product.
Your products are manufactured at our metalworking shop. Our expertise in material alloys and our manufacturing competence enable us to maintain a high level of quality, while our measuring department safeguards the geometry of the items with a coordinate measuring machine before they are shipped to you, the client.
More and more companies are coming to Verkstadsbolaget for production. So, we can provide a number of good references in this respect.
Welcome to our workshop!
Laser cutting
If you need assistance with laser cutting of sheet metal, we will gladly help you. We work with one-off runs and high-volume production. Our laser can handle sheet metal with a width of up to 1,500 mm, length of up to 3,000 mm and thickness of up to 20 mm for black steel, 12 mm for stainless steel and 8 mm for aluminium.
The machine is connected to a bucket excavator which allows us to engage in high-volume unmanned operation.
Do you have any questions about our capacity?We'd love to hear from you!
Text and ID labelling
The labelling of products facilitates things in connection with assembly and provides traceability and information. You can choose between punch marking, which is a form of punching, or branding with laser that is done in connection with production.
Punch marking is often used for machined articles after milling and turning.
Laser branding is used for sheet metal items.
In addition to ID marking and plain text, labelling can also include symbols or logos.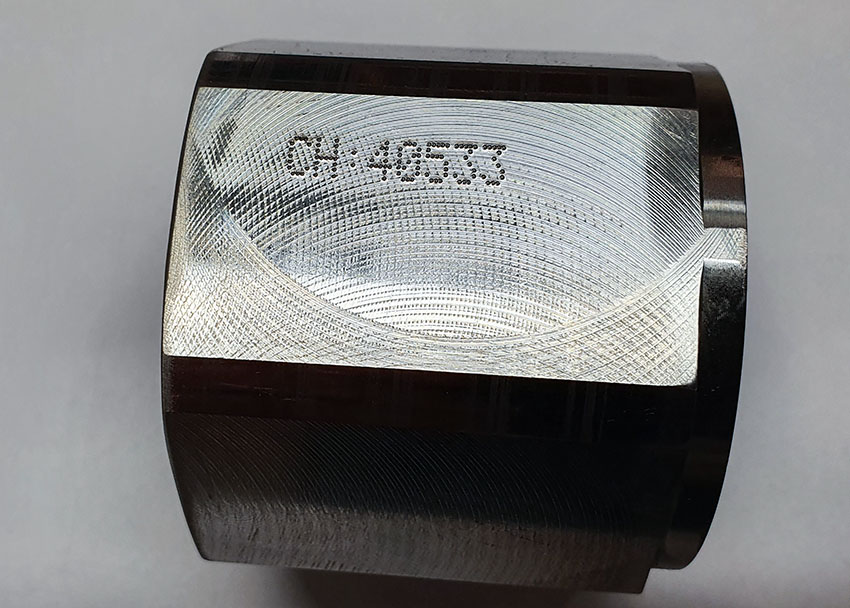 Traceability
If you have traceability requirements in respect of raw materials by means of batch numbers or certificates, we can provide this in production and in our Monitor business system.
The illustration shows a centre punch marking.